WHAT IS LIP AUGMENTATION?
The lip augmentation procedures increase the size of the lips to make them fuller and more attractive. Lip augmentation can also be used to treat 'smokers lines'; fine vertical lines that can appear around the mouth.
The procedure is used to help women and men of all ages. The upper or lower lip may be treated singly, or both upper and lower lips may be augmented at the same time. Augmentation of the lip is achieved by injecting special medical fillers into the lip area. Dr Mooney uses several products designed to achieve a fuller lip that are either temporary (3-6 months) or permanent.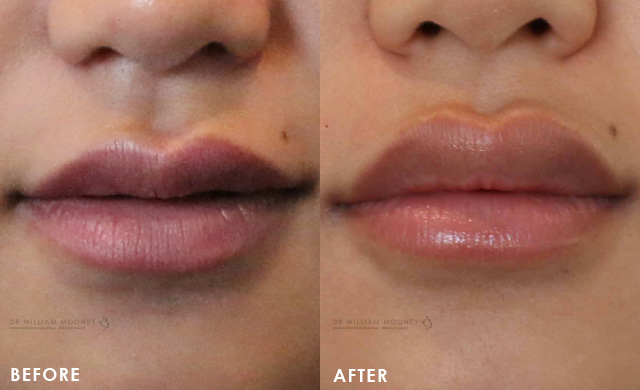 BEFORE & AFTER
Post images are taken between 3 to 12 months
after procedure. Individual patient results may
vary, these pictures do not in any way guarantee
a specific outcome. View DISCLAIMER
Temporary fillers are mostly made of hyaluronic acid, a natural substance that already exists in the human body. Permanent fillers are made from substances such as polyacrylamide hydrogel. These fillers are biologically inactive, stable and non-toxic.
Lip augmentation is given by a series of injections into or around the lip area. The needle used to deliver the treatment gel is very fine and most patients experience very minimal discomfort during this process. Areas that are more sensitive may require additional anaesthesia prior to the injection. The result directly after the treatment may not be the final result; as there may temporary swelling in the treated area. Normal activities can be resumed immediately following the injection.
Notes about the treatment
Lip augmentation is not recommended for people who have thin or loose skin in the area to be treated or who have unrealistic expectations for the results. Patients with immune disorders or keloid formers (thickened scars) should also proceed with caution and always consult their doctor before undergoing treatment.
What to expect after the procedure
Some common injection-related reactions might occur, such as redness, swelling, discomfort, itching, discoloration or tenderness at the injection site. Typically these side effects are short lived, with most discomfort gone within a week of the injection into the lips. Tissue disturbance and/or uneven results are uncommon. Pain relief such as paracetamol may be used to reduce swelling and relieve discomfort. Aspirin should be avoided as it may increase the chance of bruising in the treated area. Excessive movement in the area around the injection site is not recommended.
The patient should not expose the treated area to intense heat (e.g. solarium and sunbathing) or extreme cold for the first few days after the treatment. This is to avoid the risk of inflammation since the area has been disturbed by the injection procedure. However, once the products are integrated in the body they will adjust to a normal body temperature. Occasionally patients with almost no lip tissue at all need more extensive filling, and may be disappointed if relying on the usual amount of filler for correction. However, results are generally excellent and most patients are delighted with the outcome.
Please contact our Patient Coordinator through our Online Inquiry Form or call 02 8897 0079 to book a consultation today.
Any surgical or invasive procedure carries risks. Before proceeding, you should seek a second opinion from an appropriately qualified health practitioner.
Frequently asked questions